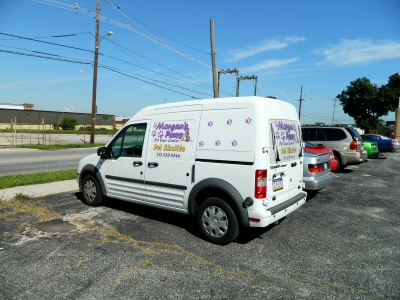 Here at Morgan's Paws Pet Care Center, we understand that there are times when you just can't drop off or pick up your pet. So we have purchased a van and can now make those pick-ups and drop-offs for you. Your pets will be properly cared for while in our van. They will be crated to ensure extra protection. No pets will be able to "free roam" the vehicle while in motion.
See Pet Shuttle Service Pricing>>
Contact Us to Arrange for Shuttle Services>>
Pet Shuttle to/from our Center
We will pick up your pet at home, drop off your pet at home or do both.
Vet Appointments
We will shuttle your pet to and from the vet's office and wait during the appointment. You will, of course, need to contact the vet to discuss the reason for the visit, arrangement of the vet's payment, etc.)
Retail Delivery Service
If you make purchases from the Morgan's Paws Pet Retail Store at our Center, we will deliver your purchases to you. Deliveries are done on Wednesday and Saturday of each week.